We use our time, labor and other resources to respond to the needs of our local, national and global community. We encourage everyone to serve.
Congregational Health and Care
Congregational Care is a Ministry targeted at taking care of all members of our church family.  We partner with other individuals, groups and committees within our church to provide a holistic approach to helping families meet various challenges that come their way.  Our goal is to have enough awareness and depth to provide consistent care, regardless of a single person's availability.
Everyone is at least an informal member of this ministry.  One of the key things we do is provide a monthly opportunity list noting who is in need of care and how we can help them.  Members and friends of the EGUMC community are encouraged to use that list to send a card, or make a call or visit when you have a moment.
The more formal structure of this ministry is providing monthly training and check-in for people providing care.  We meet on the fourth Thursday of the month at 7pm. Currently meetings are on Zoom.  We talk about how things are going for the care givers and the care receivers, any questions we have, topics/areas where we would to know more, and just how the program is going in general.  Kenneth Haugh's book "Christian Caregiving:  A Way of Life," was the foundation of our training.  Subsequent topics were selected based on what the group wanted to know more about.  Some of these topics were:
Hospital Visitation, Active Listening, Using & Creating Prayer, Ministering to the Dying, Serving Home Communion, Grieving
All you need is a desire to help us promote and improve the caring systems of EGUMC.  Volunteers can sign up for one or many areas of service such as:
Visitation.  Those in the hospital, at home recovering from surgery/illness,  or otherwise unable to attend worship
Calls/Card.  Letting people know you are thinking of them by providing a phone call or sending a card.
Walking with individuals during transition or crisis times
Serving communion or anointing with oil for those unable to attend worship
Newcomer follow-up.  Making sure people are aware of ways they can get connected
Staying in touch with those who are becoming disconnected from the church
Staying in touch with college members away from home
All members are encouraged to review the weekly Opportunity list that is provided to see where they might help.  If you would like to learn more about Christian Caregiving in general, or a special topic, let us know, and join us on the 4th Thursday of the month.
Our Health Ministry provides quarterly seminars on health topics related to needs in our community and church. We host a quarterly prayer vigil with a theme for specific concerns in our world at the time. We sponsor a Tai Chi Class and Nami (Mental Health support Group). We send out a monthly email of health care information and care opportunitites. 
This team works with the Pastor in leading worship as liturgists, greeters, ushers, communion servers and worship team leaders.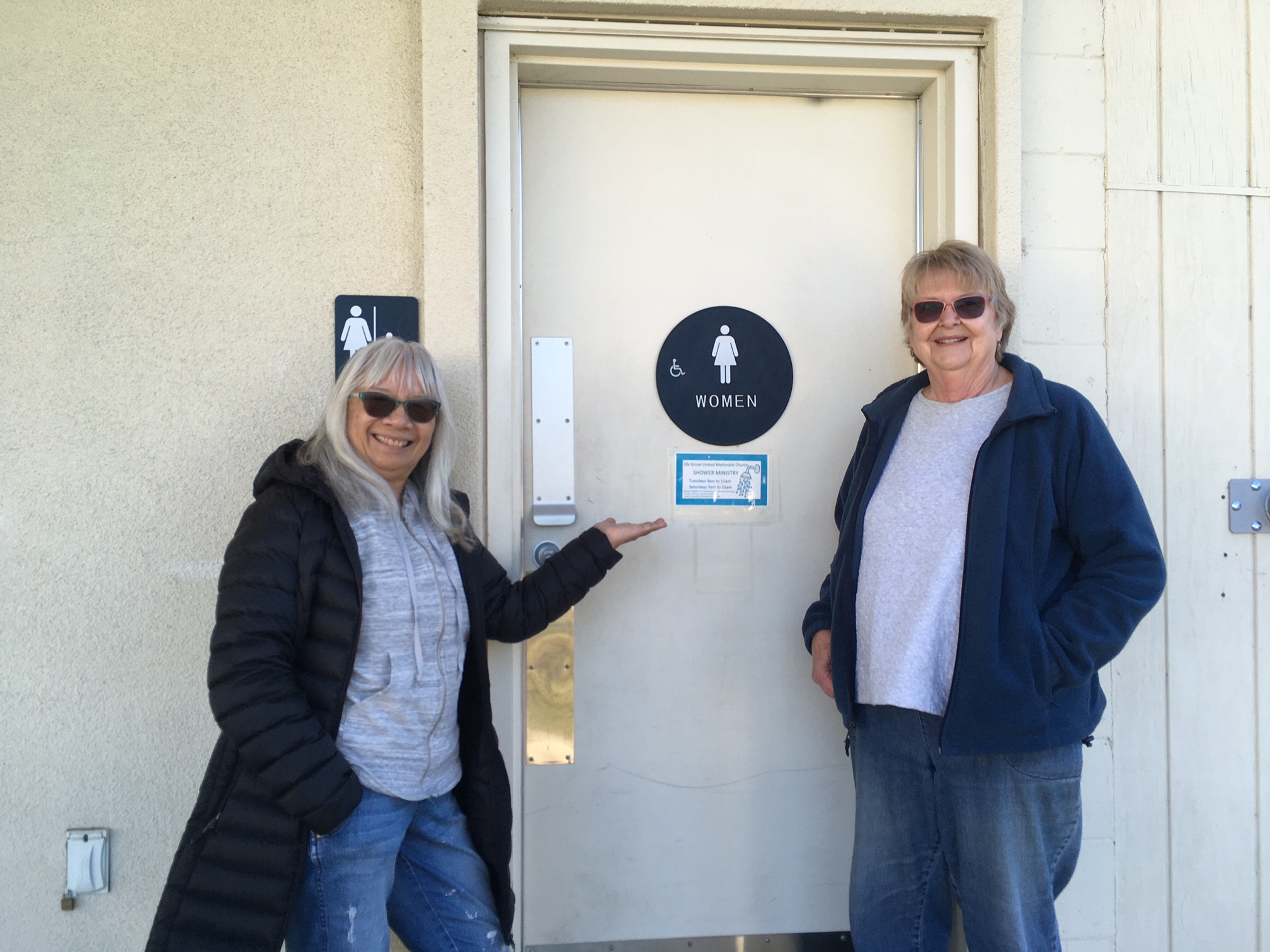 The Shower Ministry provides showers to anyone in the community who needs them two times a week: Tuesdays and Saturdays.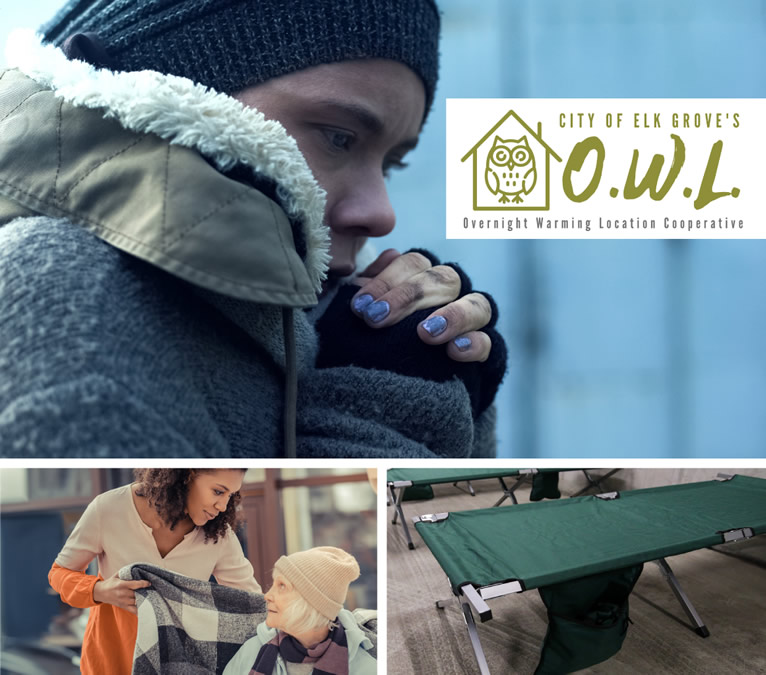 O.W.L. – Overnight Warming Location
The Elk Grove Overnight Warming Location (OWL) Cooperative is a network of city, service, and faith-based organizations operating overnight warming centers for those who need it.
*A note for individuals looking for shelter right now. EGUMC was the location in December, but not currently. Below are details about how to find out where the current location is.
December 1, 2021 – April 30, 2022*
* Operating dates are dependent on weather conditions. See website for details about dates open and where the location will be.
Learn more and sign up for notifications at:
elkgrovecity.org/owl
WHAT IS THE EMERGENCY HOMELESS SHELTER & WARMING CENTER? 
 During winter weather, Elk Grove UMC is involved in a new city program to shelter the unhoused during inclement weather. The program relies on volunteers and this is a great way to put Jesus' love into action.
This program is called Elk Grove OWL Cooperative (Overnight Warming Location). OWL is NOT every night. However, it is launched whenever weather conditions become moderately severe or worse, including multiple days of rain, sustained wind and/or colder temperatures in the low-to-mid-30's. Similar to the prior EG Winter Sanctuary program, we serve men and women but only those 18 years old and older. Bus passes can be obtained from the City of Elk Grove.
This past winter, the program officially started on December 1 and Elk Grove United Methodist Church was the first of several churches to provide this emergency shelter/warming center. We essentially were "on-call" for a four-week period in case of severe weather. If the forecast is for severe weather, we have 48 hours warning to launch the program.
When launched, the program is modeled after EG WINS. Guests are checked in, agree to and sign a code of conduct, provided a warm dinner, a cot and sleeping bag, and a simple breakfast in the morning. The difference is that guests will check in and stay at the same church.
Volunteers to run the program are needed in  several categories, ESPECIALLY those willing to stay overnight.
Volunteer Positions Needed: Volunteer Lead, check-in teams, meal teams, evening volunteers, overnight monitors.
If you are interested in participating in the program when it runs during the winter please contact the church office.
Weekend Meal Ministry
Elk Grove United Methodist Church has taken a magnificent step in helping our community and neighbors who are in need.
We are looking for volunteers to sign up for one Saturday a month to cook, clean, or just help out.  If you are unable to donate your time , we are seeking money and food donations of pancake mix, syrup or juice.  If you find yourself with a free Saturday morning come hear stories and share some with those who love to listen and talk.  Make someone's day.  If you have any questions please contact the church office at 916-686-8303.
Please consider donating your time or your money to EGUMC.  Monetary donations can be marked to the Weekend Meal Ministry.
Saturday Breakfast Has Returned!
Breakfast is served from 8:30am to 10:00am in Bartholomew Hall. All are welcome to come.
Volunteers are needed from 7:30am to 11:00am to help set up, cook, serve, and clean up.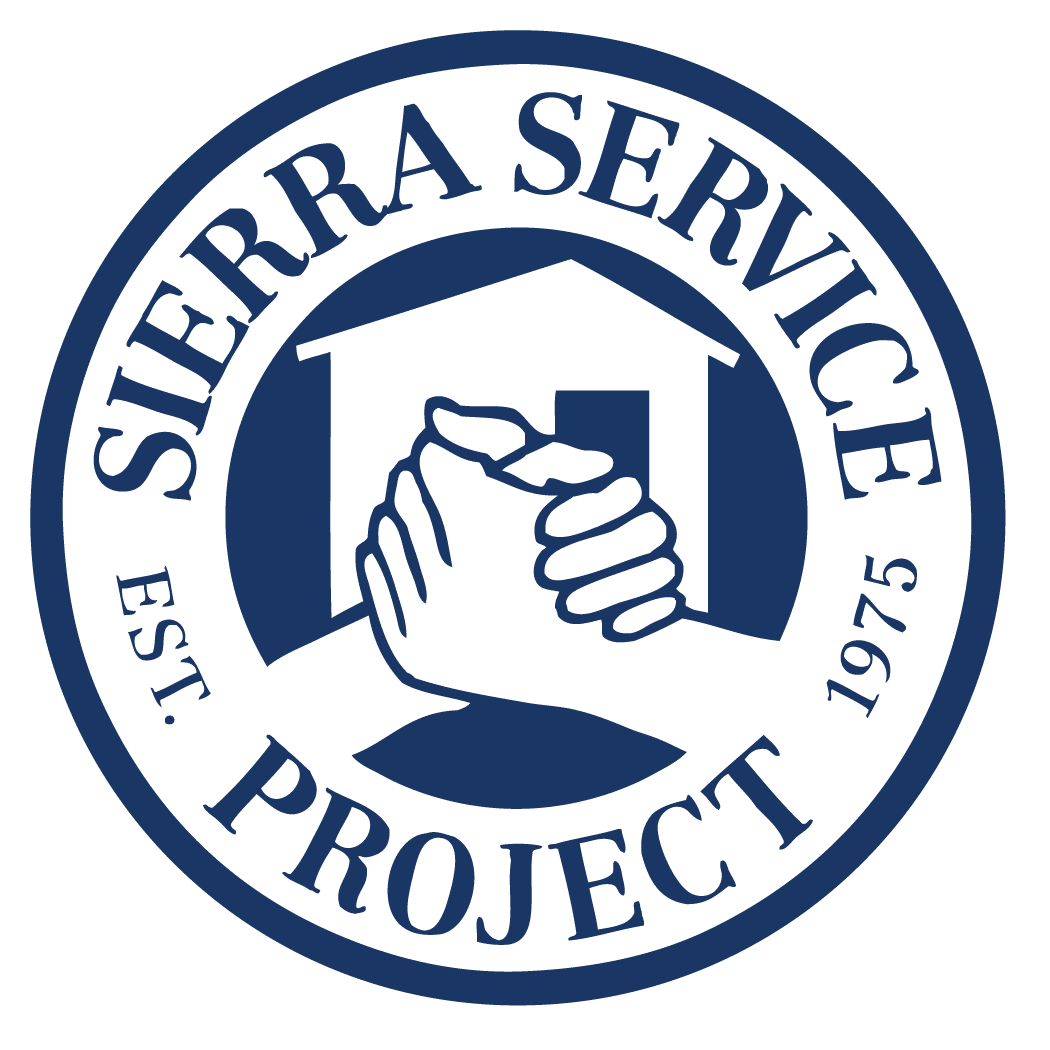 "Building faith and strengthening communities through service to others."
SSP is an ecumenical Christian non-profit organization providing life-changing experiences through acts of service repairing homes in rural and urban communities. We invite middle school and high school youth and young adults to experience the profound power of serving people who have a culture and life experience different from their own.
During our domestic summer program each year, approximately 1,250 youth and 250 adult volunteers from 125 churches and 35 paid summer staff live, worship, and work together on 5 different site locations. Together, their work results in 80 safer, drier, and more comfortable homes and community centers.
How Does Elk Grove United Methodist Church Participate?
Each year the EGUMC Youth Group attends 1 week of the SSP program. Youth ages 6th to 12th grade partcipate as well as adult volunteers. 
To learn more about past SSP trips, check out the Youth page. 
United Methodist Committee on Relief (UMCOR)
UMCOR is a Global United Methodist Program:
UMCOR comes alongside those who suffer from natural or human-caused disasters – be it famine, hurricane, war, flood, fire or other events—to alleviate suffering and to be a source of help and hope for those left most vulnerable. We provide relief, response and long-term recovery grants when these events overwhelm a community's ability to recover on their own. UMCOR also provides technical support and training for partners to address emerging and ongoing issues related to disaster relief, recovery, and long-term health and development
How the Elk Grove United Methodist Church Participates in UMCOR:
We participate in the UMCOR Coffee Project–Good Coffee for a Good Cause. Coffee is sold on the 1st & 3rd Sundays during fellowship time. Both Decaf and Regular coffee is available in Whole Bean, Drip and percolator grind. In addition there is hot chocolate mix and assorted teas. Order forms are available from the church office if you are unable to purchase your items on the 1st or 3rd Sunday. This program helps small farmers around the world. Any excess funds raised during this program will be given back to UMCOR to help in their worldwide work.
We take a special offering during the season of Lent called United Methodist Committee on Relief Sunday which supports the basic work of UMCOR.
EGUMC has supported UMCOR by collecting school, health, layette, birthing and cleaning kits that are shipped nationally and internationally when a disaster has created a need. 
Volunteers In Mission (VIM) is an opportunity for youth and adults (and sometimes children) to do hands-on mission locally, nationally, and globally.
Periodically, a group from our church has participated in this wonderful mission program. Several years ago, we sent a group to Guatemala to build an orphanage. A few years ago we sent a team to New Orleans for hurricane recovery work.  In addition, for several years teams went to work at the UMCOR (United Methodist Committee on Relief) Depot in Salt Lake City. The teams worked at the Depot assembling school, health, layette, birthing and cleaning kits shipping.