Free Saturday Community Breakfast
Shower Ministry
Free Weekly Lunches
Uplift People of Elk Grove
Caregivers Coffee
12 Step Groups
Non-Profits in the Elk Grove Community (off campus):
HART
Elk Grove Food Bank
LGBQAI+ Support
Free Saturday Community Breakfast
Provided by EGUMC Meal Ministry
All are welcome to this free community breakfast.
Saturdays: 8:30am to 10:00am
Located at Elk Grove United Methodist Church downstairs in Bartholomew Hall.
Tuesdays & Saturdays @ 9am to 11am
Showers are first come first serve, no appointment needed.
Towel and toiletries are provided if needed.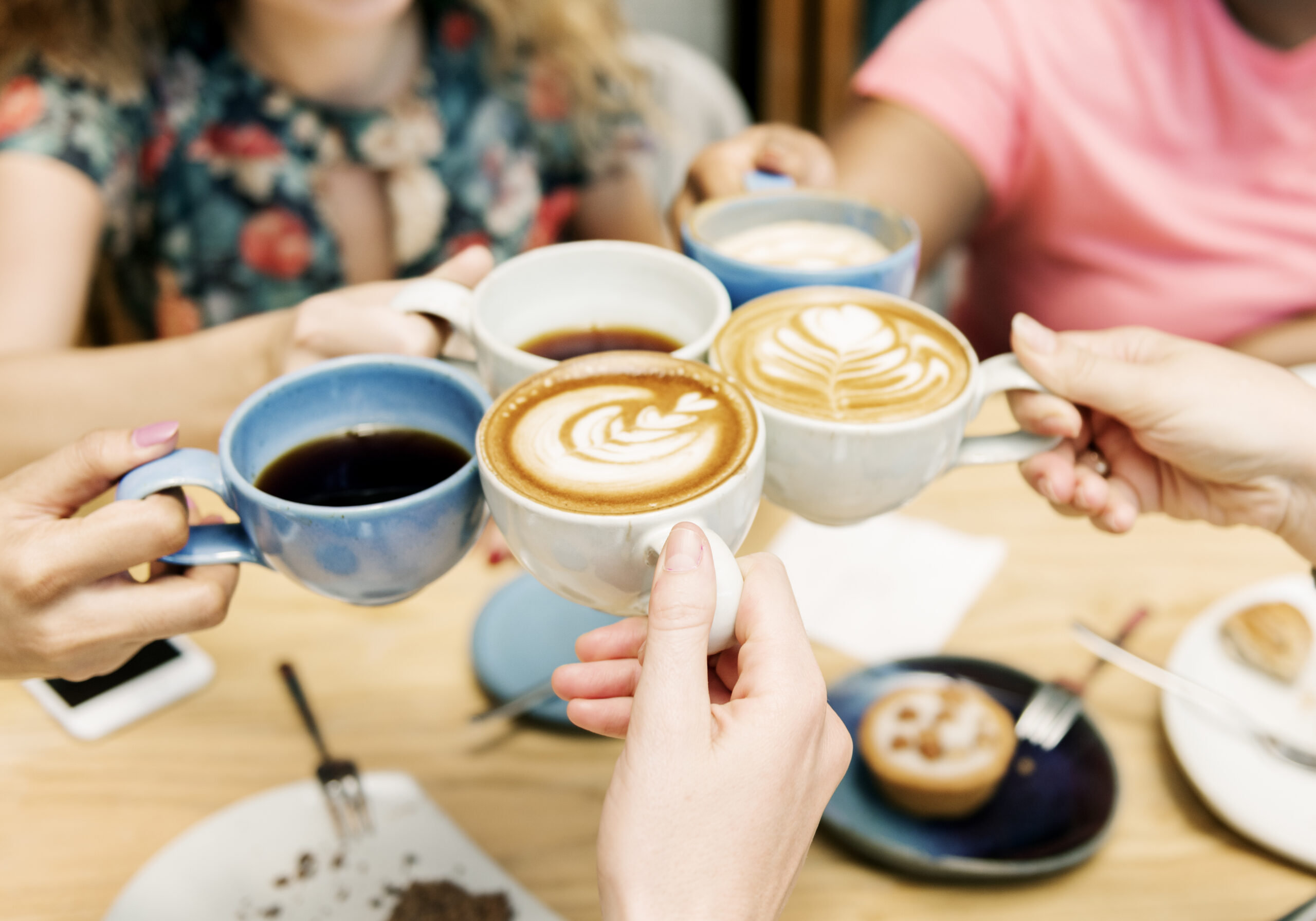 This is a safe forum for those who are regular caregivers for a spouse, parent or other loved one to share thoughts, feelings and challenges and to meet others facing similar issues and the ways they have learned to cope with or resolve them.
Meets monthly on the third Saturday of the month at 10:30 am in the Rainbow Room.
This is a drop-in, supportive conversation for caregivers.
Uplift People of Elk Grove
At Uplift People of Elk Grove we help individuals and families break the cycle of poverty and move to a place of more abundant lives. We use a holistic approach that focuses on avoiding homelessness, moving off public assistance, planning for the future, goal setting and moving from a place of surviving to thriving.
Weekly meetings are the core of Uplift. Our weekly meetings include dinner, fellowship, educational curriculum, goal setting, presentations and workshops. We provide childcare and junior/high school programs. We recognize that transition from surviving to thriving takes time. Participants are asked to dedicate 24-36 months to complete the program.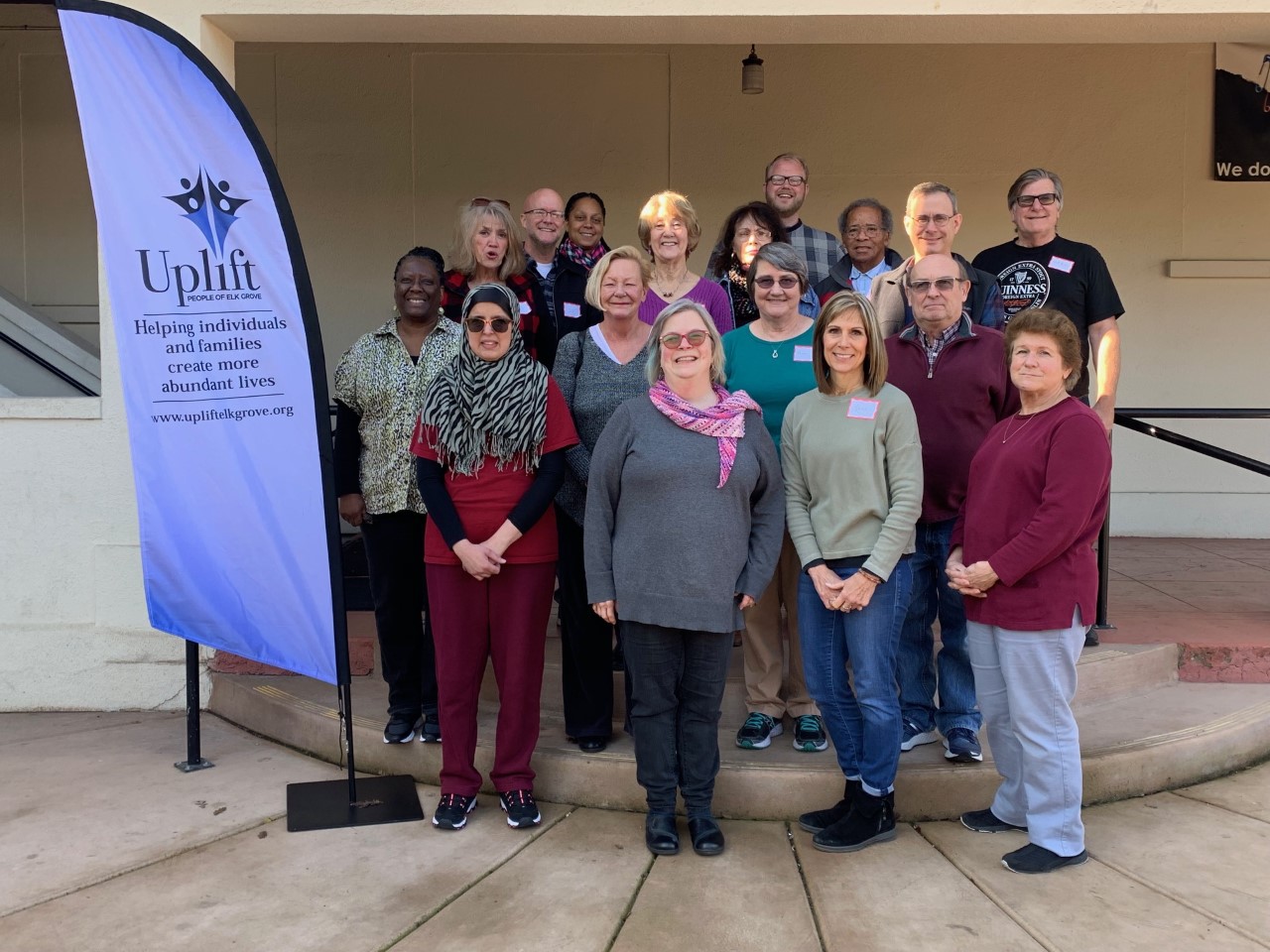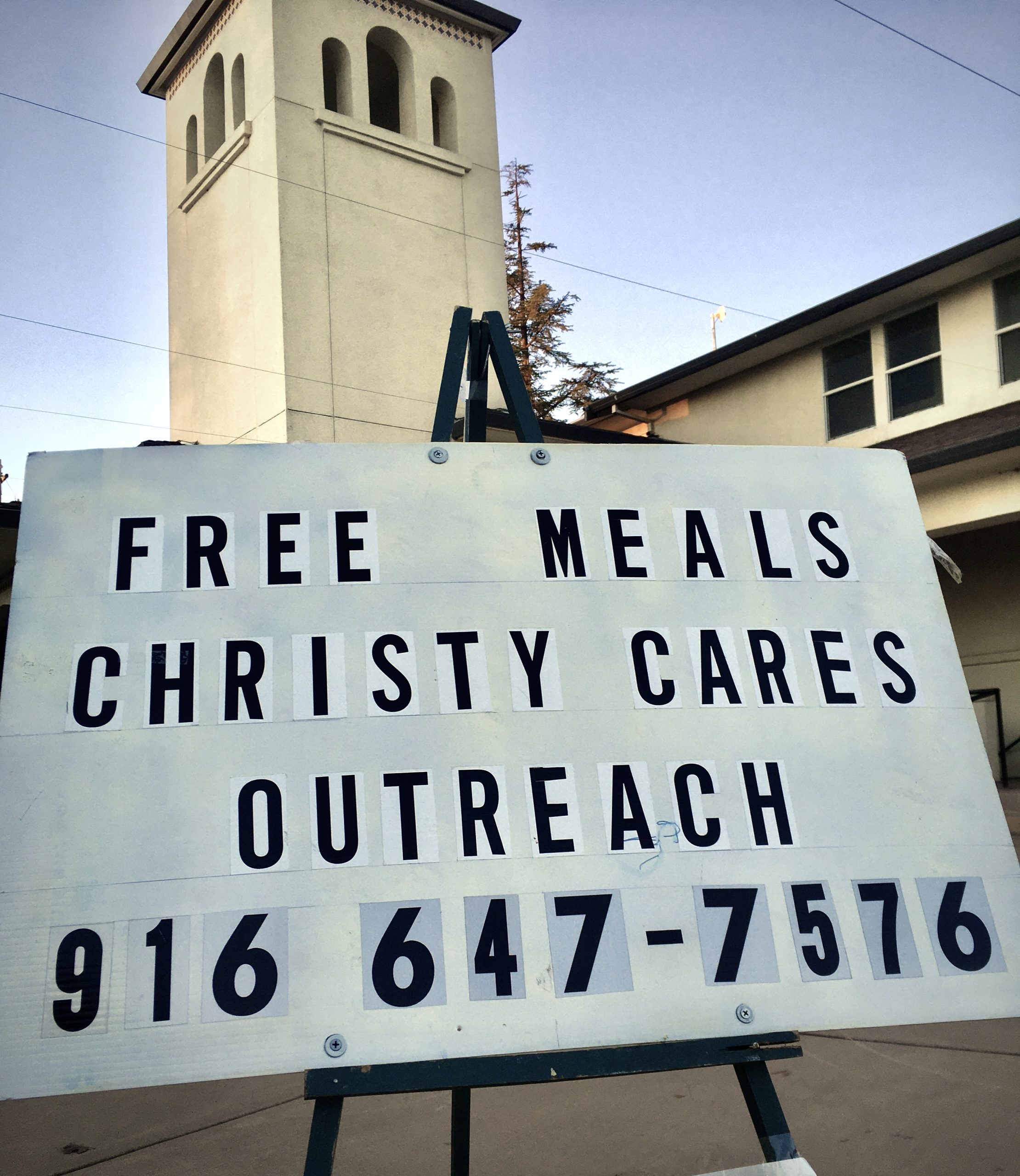 Provided by Christy Cares Outreach
Tuesday: Lunch 12:00pm to 1:00pm
Thursday: Lunch 12:00pm to 1:00pm 
*No Lunch on Thanksgiving Day, November 23rd*
Located in Bartholomew Hall
Christy Cares Outreach is a non-profit organization providing assistance to those in need in our community.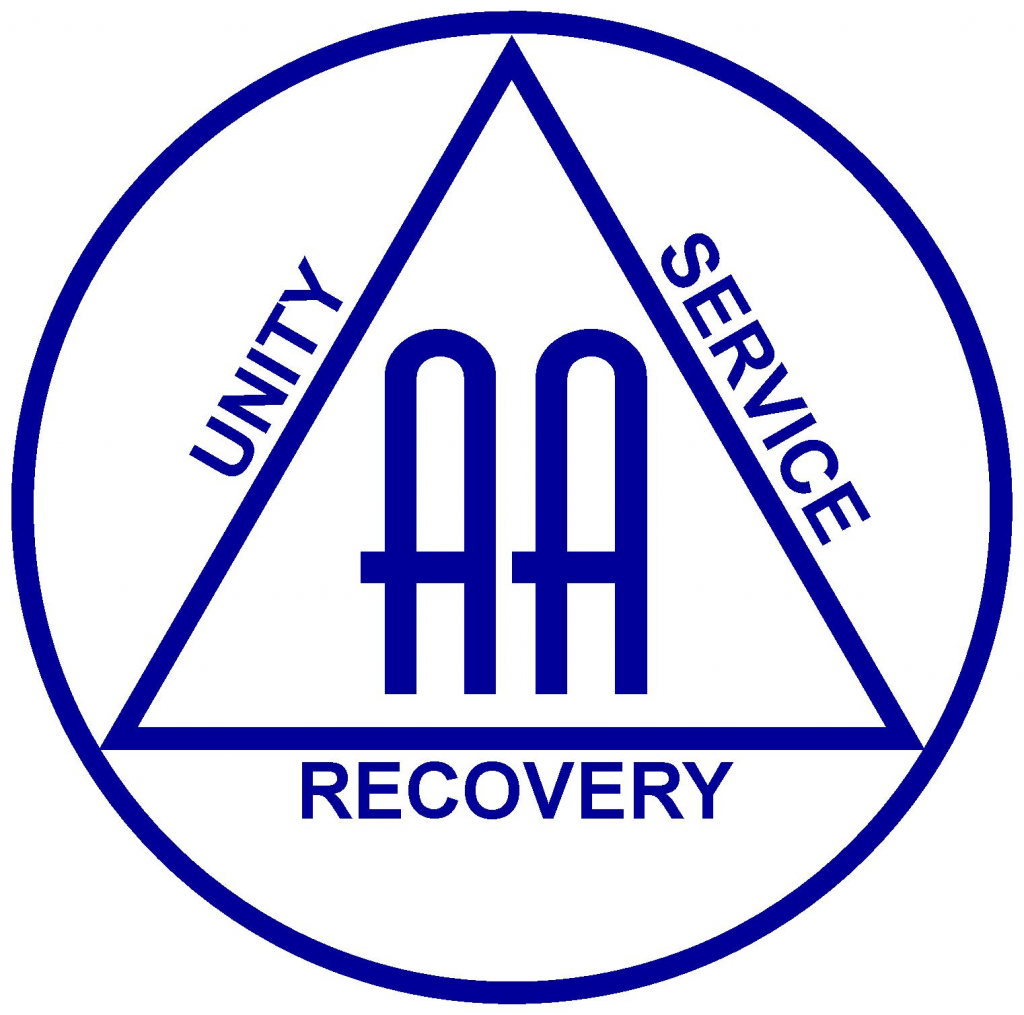 Alcoholics Anonymous
Date & Times of Meetings:
Mondays, Tuesdays, Saturdays @ 8pm
Locations of Meetings:
Bartholomew Hall: Monday & Saturday
Community Room: Tuesdays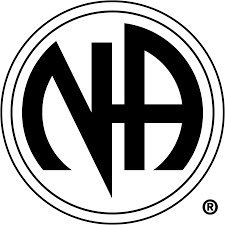 Narcotics Anonyomous
Date & Time of Meeting:
Thursdays @ 7pm
Location of Meeting:
Community Room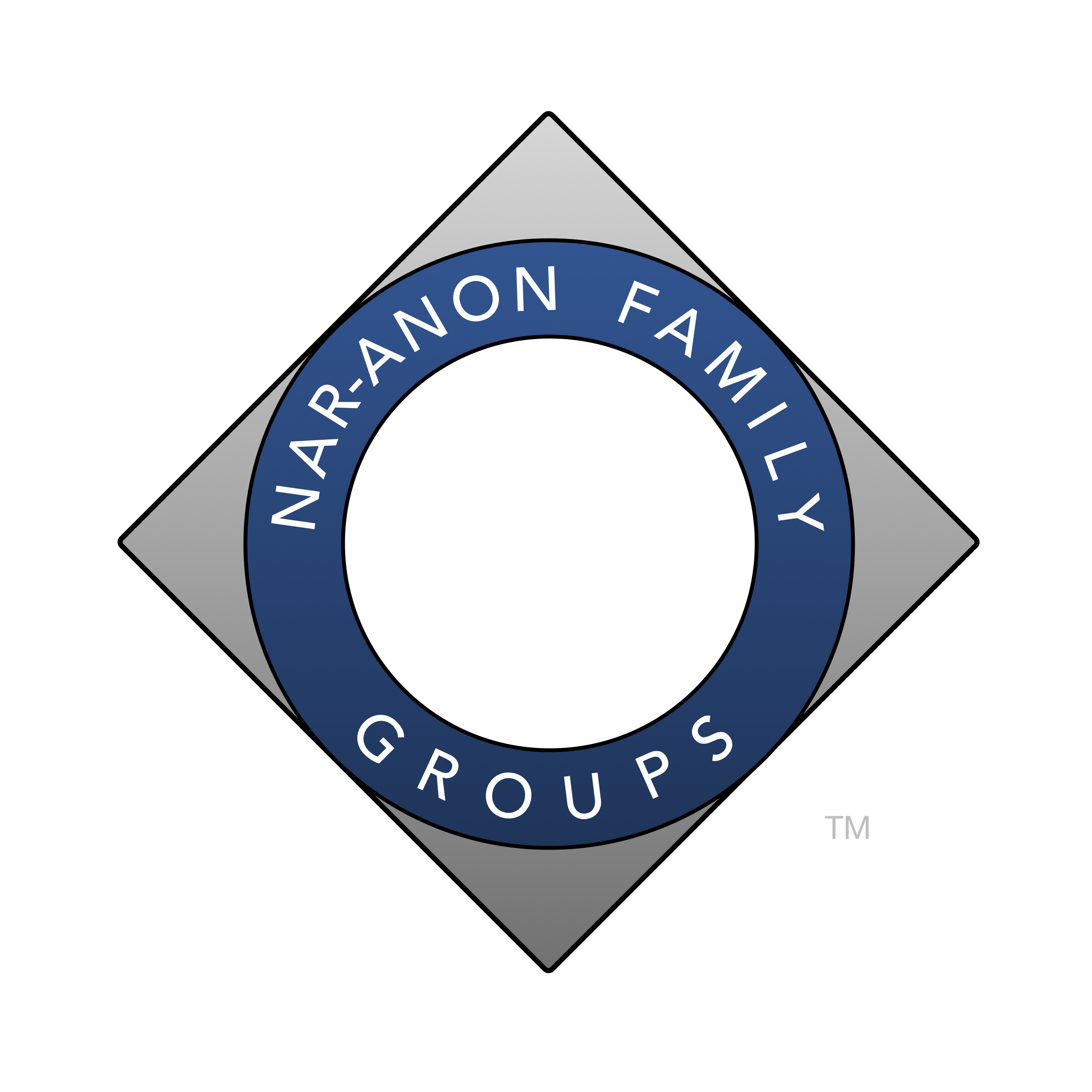 Nar-Anon Family Group
Wednesdays @ 6:30pmpm
Community Room

Codependents Anonymous
Mondays @ 7pm
Community Room
Non-Profit Resources Located in Elk Grove (off campus)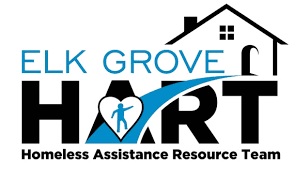 Elk Grove HART was formed in 2010 to provide local services to the growing number of homeless in Elk Grove. Our goal is to assist those experiencing homelessness in Elk Grove toward self-sufficiency and greater independence.
What We Do
HELP to meet basic needs
ENCOURAGE movement out of homelessness
CONNECT to resources
MENTOR individuals
TEACH AND ASSIST with budgeting
AID in attaining gainful employment

 
Elk Grove HART
PO Box 1343
Elk Grove CA 95759
(916) 623-5858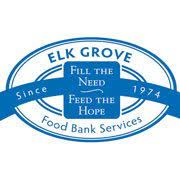 The Food Bank is located :
9888 Kent Street, Elk Grove, CA 95624
Contact Us
Please check our website calendar or call
916-685-8453 for afternoon hours.
Elk Grove Food Bank Service operates one emergency feeding program, seven senior mobile distribution programs, and a home delivery program for the medically fragile housebound to help meet unmet needs among the most vulnerable populations. The Food Bank also serve a student pantry at Cosumnes River College.
We Serve Clients
-Mondays through Fridays*: 10:00 am to 3:00 pm
*Exception: 4th Wednesday: 12:00 pm to 3:00 pm
-Saturdays: 9:00 am to 12:00 pm.
Now open every Friday from 9:00 am to 10:00 am for our Senior and Disabled Clients only.
Summer Heat Hours
During extreme heat conditions, the warehouse and food distribution operations will close at 12:00 p.m. We consider a forecast of 100 extreme heat.
LGBTQAI+ Support (off campus)